NEW AIRE Tributary Fourteen HD Whitewater Raft is self bailing with a five year warranty.
AIRE Tributary Fourteen HD Whitewater Raft with Lace In Thwarts
For the first time in many years there are some changes to AIRE's imported Tributary whitewater raft line. Measurements on the new Fourteen HD, which replaces the 14.0 SB Trib, will remain the same but the weight has increased somewhat. This is due to a new hull material with a thicker coating on the outside. AIRE's 2015 catalogs show the old weights for all but the Sixteen, so those are mistakes. The new Fourteen HD is roughly 140 pounds with both thwarts, and the thwarts are another area where a change has been made. Up to now all the Tributary river rafts 12' and up came with three knuckle-mounted thwarts. The thing was, many people removed their thwarts for a rowing frame anyway. Therefore the new edition comes with just two, but they are repositionable lace-in style like the American AIRE rafts. A third thwart can be purchased. If you remove both thwarts, the Fourteen HD drops to 130 pounds.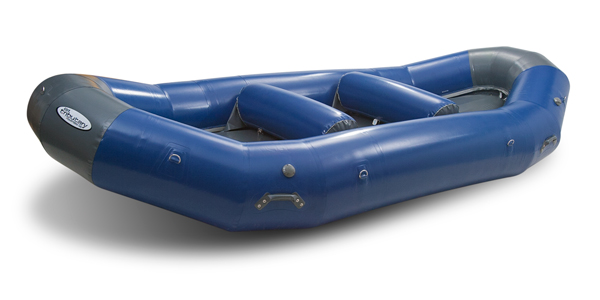 Another obvious difference is in the colors. Rather than being a solid medium-blue on the side tubes and floor bottom as they were up to now, the new Tributary line is done with alternating colors. These are either dark blue for most of the side section and thwarts, and dark gray for the floor top, bow, and stern sections, or vice versa depending on size. The base fabric of this new material is beefy 2000 denier polyester, so as with the older Trib's, nearly impossible to tear. It also has more abrasion resistance because of the thicker outside coating. There have been some minor changes to the taper and floors, but you would have to look close to notice these. Tributaries have decreased in price for the second time in three years, and remain a solid value – one of the very best in fact. The welded seams and replaceable bladders mean a Tributary should last decades, and though these new ones are a bit heavier than prior Trib models, they still roll up much smaller than almost any other Asian pvc raft. They are one of the very few that we can get back into the factory box in fact!
There are cheaper glued pvc import rafts on the market, but whereas the lifespan on a welded Trib is essentially unlimited, glued brands range from 3 or 4 years up to maybe 13, 14, or 15 years maximum, at which point their glued seams will open up. This means you will be putting 100 plus pounds of toxin-laden poly vinyl chloride into a landfill somewhere rather than keeping a welded raft like the Trib's in use. Among other things, some Asian brands of pvc still contain dioxin.
Overbuilt – AIRE Tributary Fourteen HD Whitewater Raft
Since the late 1980's or early 90's, most rafts have been overbuilt to where toughness is no longer a big consideration when comparing brands. Everybody's boats, even the cheap glued pvc river rafts, are plenty rip-resistant. Today, all you are really buying is handling and lifespan. And along with their longevity, Tributary rafts do indeed score high in the handling department. Add to this that they tend to roll up smaller and weigh less than many competing brands, including the American made AIREs, and the Trib's stand as an obvious first choice for veterans and first time boat owners alike. However, if you prefer to support American products like the Idaho-made AIRE's you will get no complaints from us.
Trib's use the larger bore, more reliable B-7 Leafield valves, but at least one or two of those valves and their caps tend to be in knuckle-bashing locations, especially the front right valve. As is often the case, AIRE is trying to please outfitters, who want to deflate a stack of boats rather than just one. These guys invariably worry about ease of deflation above all other issues, including their customer's bleeding fingers. You may need to jury rig a padded cover out of some 6mm wetsuit fabric and velcro to slip over the front right valve if you'll be using your Tributary as a paddle raft. Or wear one neoprene glove. The problem is less pronounced on the three-chamber Twelve than on the 13′ and 14′ models, which have four main chambers.
The floor's on the self bailing Tributary's mount the same way all AIRE raft floors do, with a laced piano hinge system that drains very quickly. However, unlike the American AIRE rafts, the floors on the Tributary's come installed from the factory. This is significant since it takes one person three hours to lace the floor of a 143 model
Warranty for AIRE Tributary Fourteen HD Whitewater Raft
The warranty on Tributary rafts is five years rather than ten like the American boats, and it is not a "no-fault" warranty. In other words AIRE still fixes anything that is their fault, but if you damage the boat, that won't be covered as it would have been on a U.S. made AIRE model. If you don't want to deal with a repair yourself, you can still ship the boat off to Idaho where AIRE is located, but many repairs can be effected on a Tributary in less time than it will take you to box up your raft and drive to UPS. Remember too that five years is the same warranty you get on many other brands, several of them far more expensive that the Trib's.
The boxes these come in often require extensive amounts of extra tape, and occasionally we have to re-box a Tributary completely. The Chinese cardboard is quite inferior to the U.S. stuff. Most Trib rafts will be breaking out of their mushy carton by the time they get to you if we don't take this extra step – and most dealers don't. We are not tooting our own horn, but no other whitewater dealer in the country packages their boxes more securely than The Boat People.
Free Shipping or 5% allowance toward UPS or any gear you need. An additional price break of another 5% is available for payments made via cashier's check or bank transfers.