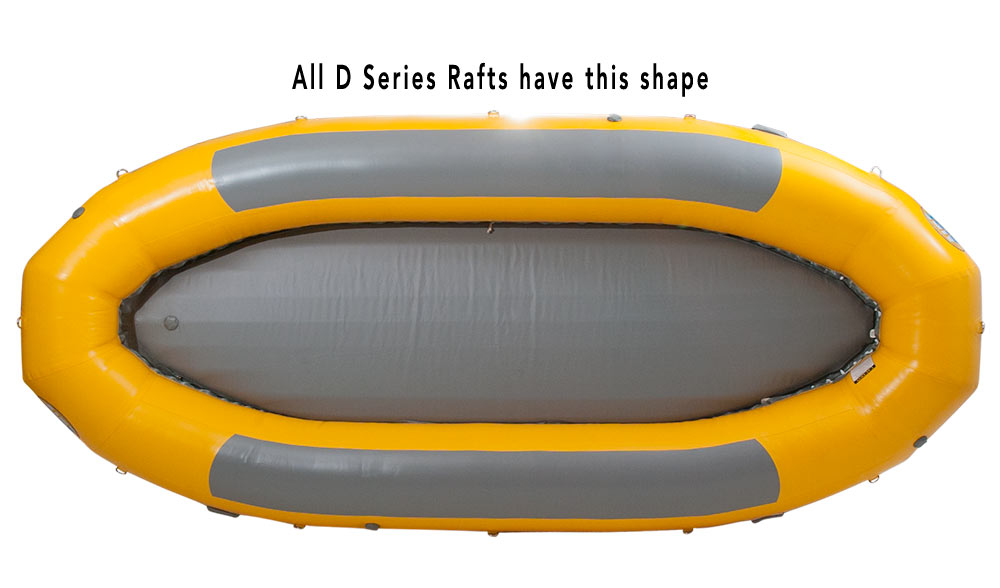 Note that the photo shows three thwarts, but the third one is optional and pricing given is for two. Colors for 2013 are red, yellow, orange, dark green, and blue. Dark purple, gray, and white are available by special order. Lead times on the three "special" colors vary but average five to six weeks.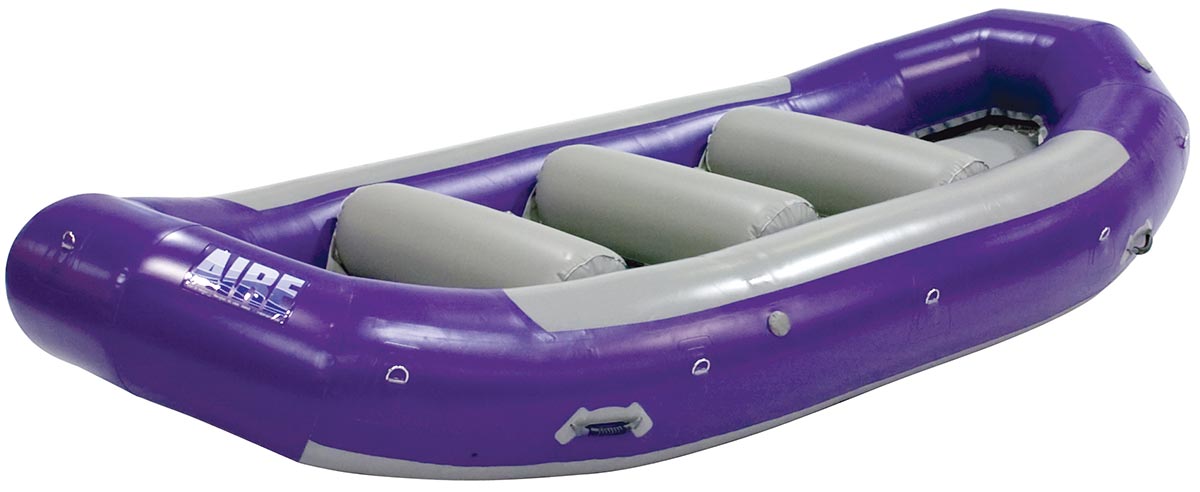 Please note that due to the high weight of this river raft, the UPS rate module that works with our shopping cart will be unable to calculate the shipping cost. You will get an error message. Therefore, if you want one of the 156's you should phone your order in at 925-820-BOAT.
AIRE 156 D Whitewater Raft, 156E, 156R hold 8 to 9 Paddlers
The AIRE 156E river raft (self-bailing) accommodates eight paddlers and is mainly used by outfitters as a paddle raft, not an oar rig. The AIRE 156R & 156D inflatable rafts hold a total of nine without a problem. These big beasts actually handle very well for their length. Some of our ancient rental 156R's saw some of the most serious big water class IV and V of any of our livery boats, including our local Tuolumne at blood curdling flows. More importantly, the 156's saw these rivers right side up! The 156 series are highly stable if you are looking for a support raft for large groups, or something to do the above mentioned scary high flows regularly on your local rivers. The 156D used to have smaller tubes than the 156R, but this is no longer the case. Both models have 22″ main tubes, a foot of rocker (9″ at the back of the 156R), and both come with frame chafers. The R is 2″ longer and wider than the D so it will hold a smidge more weight, but the D model has more room for gear at the bow & stern interior since the tube diameter decreases there. We have found that most people already know what they want when they call us about the 156's, but if you have questions by all means contact us. For now the "R" series, which is what is shown in our photo above, remains the most popular in the 15'6″ size. Note that as an alternative to the 156D, there is also a new 160DD model with very similar specs & price.
The AIRE 156 D Whitewater Raft river raft is 15'7″ by 7′ wide and weighs 165 pounds. The 156R self bailer is 2″ longer & wider and weighs 169 pounds. The 156E whitewater raft is 15'10" long and 7′ wide, and weighs 159 pounds. They have 22″ tube and the D and R models feature gray frame chafer areas to minimize marks from the steel or aluminum.
AIRE 156 D Whitewater Raft, 156E, 156R 5% Freight Allowance
All AIRE's come with a very complete patch kit, repair video, lots of D- rings, lift handles, and two thwarts. Extra thwarts may be handy if you are going to run one of these as a paddle boat and are listed separately. Matching footcups are available for all AIRE boats (see Raft Accessories section).
Sealed Floor Option for AIRE Rafts 156D, 156E, 156R
Some boaters, most often those who don't actually own any AIRE rafts, worry over water that is retained on the river between an AIRE's floor bladder and the interior of the pvc floor pocket. They assume it will adversely effect the performance of an AIRE, especially a larger model like the 156 series. In truth, you are definitely carrying some H2O all the while you're on the river, maybe eight to ten gallons on a 156. However, in our considerable experience most boaters won't even notice it. But if you really want the top performance from your AIRE or are concerned about silt and fine grit entering through the floor pocket's zipper, then perhaps it is worth looking into the Sealed Floor Pocket ("SFP") option. This item is shown on a separate page as an add-on, and runs extra. Unless you actually do spend a lot of time on class V rivers, we don't think it's a good investment, but that's your call.
If you do want a sealed floor pocket, we strongly urge you to forego using our shopping cart. We prefer you call or email us so we can check the lead time, and then we will see if that works for you. In general no dealers stock the SFP models.
Urethane Option for AIRE Rafts 156D, 156E, 156R
Optional Urethane fabric 156:
Note that all U.S.-made AIRE rafts and cats are available in polyurethane fabric as well as pvc. The upcharge on any of the three 156 models for urethane is extra. You cannot order a urethane raft online, you have to call. We make you do this because lead times on urethane boats can vary wildly, and color options are generally limited to one or two choices so we want to make sure the wait times and colors are kosher with you. A third reason we need you to call us is that normally a down payment is required since urethane boats are special order. If AIRE happens to have what you want in urethane sitting on the shelf that's fine, but otherwise it has to be ordered, and the same is true of the sealed floor pockets.