AIRE's 14'3″ AIRE 143 D Whitewater Raft, 143E, and 143R self bailing inflatable rafts come with two thwarts – note the photo is showing an "E" series 14′ with three. If you plan to order a raft with no thwarts, please understand that it may affect the boat's inside width. Often, having at least one thwart blown up firm spreads the raft apart the final inch or two, so if you are splitting hairs on the frame width keep this in mind.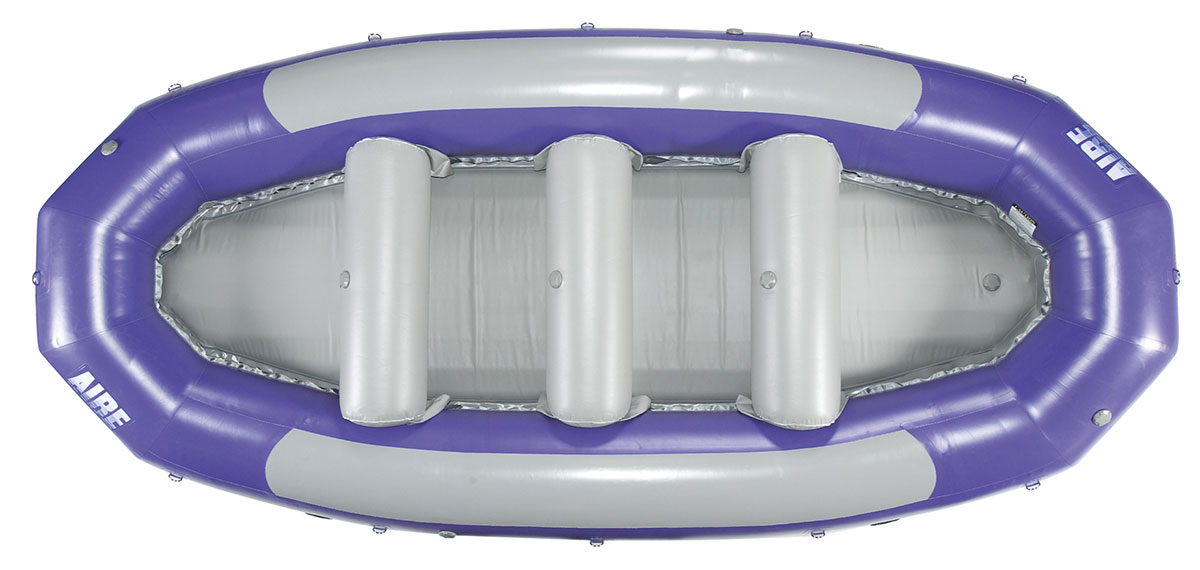 AIRE Rafts 143D, 143E, 143R – Popular Design
AIRE 143 D Whitewater Raft as all AIRE'S fourteen foot rafts used to be our most popular whitewater boat in terms of sales until the less expensive Tributary line came out in 2005; now we sell about equal numbers of both lines. Fourteens are an ideal size for many boaters who need maximum flexibility in a raft. They are just big enough for Canyon trips if you are not trying to support a gang of twenty kayakers, and they are fine for day trips on almost any "full size" river. An East coast boater who runs skinny sections with a paddle crew would want to look at the narrower 143E (the red raft shown below). If you run mostly high volume rivers with an oar set-up, the 143R may be your ticket. The 143D remains the most popular though and it is the best all around "multi-use" raft. The 143E is fine for seven people and the other two models are okay with eight. You often see commercial outfitters stuffing eight adults plus the paddle captain in a 14′ raft, but we feel you are asking for trouble overloading a boat this way. The deeper the boat drafts, the more rocks you'll hang up on and the slower the boat will respond. All D and R series rafts now come with grey frame chafer strips. The "E" series does not since it is intended as a paddle raft.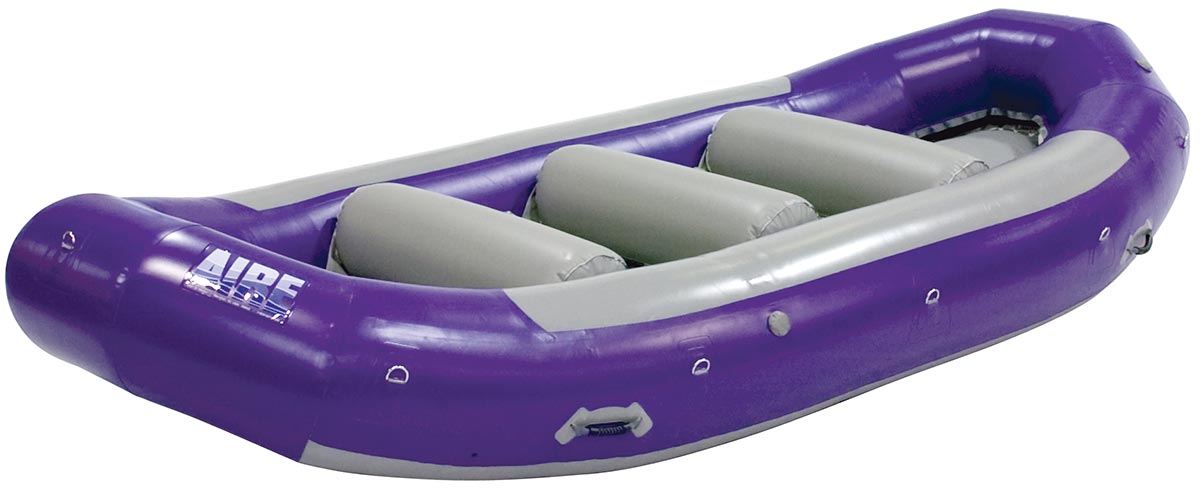 Specs for AIRE Rafts 143D, 143E, 143R
Tube diameter one all of the AIRE 143 inflatable models is 20″. The 143D is 6'8″ wide & 143 pounds, the 143E is 6'7″ wide and 136 pounds, and the AIRE 143R is 6'9″ wide & 146 pounds. The 143R and 143D are 14'3″ long and the E model is 14'5″ long.
Regardless of the model you want please understand AIRE is often low on at least one hull style in any given size, and rarely if ever do they have all the colors. Try not to be too picky and remember most raft brands only come in one or two colors. Colors for 2013 are yellow, red, dark green, orange, and blue, with white, dark purple, and two-tone grey available sporadically, mostly by special order.
One other important point is that all U.S.-made AIRE rafts are shipped with the floors loose, so you will have to lace them in. Plan on spending 3-1/2 hours 143 if you are working alone. Unlaced floors help keep AIRE's prices low. AIRE will lace one in for you but they charge extra. Sealed floor pockets (with drysuit zippers) are also available for an additional extra.
Urethane Option for AIRE 143 D Whitewater Raft, 130E, 130R
Note that all U.S.-made AIRE rafts and cats are available in polyurethane fabric as well as pvc. The upcharge for a 143R, D, or E model is extra. You cannot order a urethane raft or cat tube set on the shopping cart, you have to call. We force you to do this because lead times on urethane boats can vary wildly, and color options are generally limited to one or two choices so we want to make sure those are kosher with you. A third reason we make you call us is that normally a deposit is required since urethane boats are special order. If AIRE happens to have what you want in urethane sitting on the shelf that's great but it won't often be the case.