The price is for a two thwart 160DD self bailer, not the four-thwart one shown. The four thwart version favored by paddler rafters. If you plan to row all the time and won't ever want any thwarts, then the price is less. We cannot put every variation on the site because it becomes too confusing for our customers. If you do order a "no-thwart" 160DD, understand the boat's inside width will be a bit less than the 45″ measurement that AIRE shows on their website. Often, having at least one thwart blown up firm spreads the raft apart the final inch or two, so if you are splitting hairs on the frame width keep this in mind.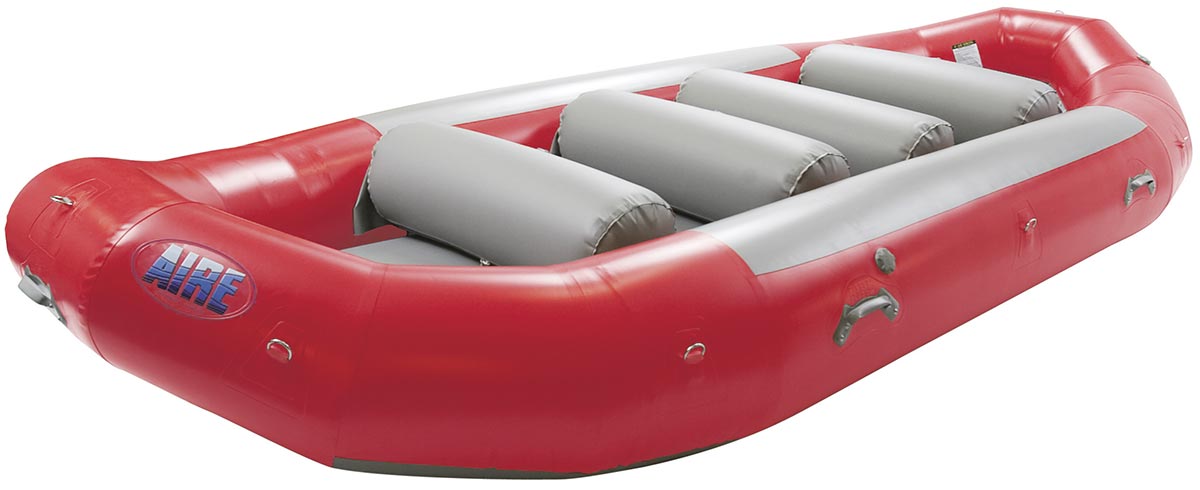 AIRE 160 Double D Raft – AIRE's Newest Whitewater Raft
This is still AIRE's newest raft. The 160 Double D is a Gauley River-inspired self bailing sixteen footer. It looks much like a scaled up 130D or 143D. Colors for 2013 are red, yellow, orange, dark green, and blue. Dark purple, gray, and white are available by special order. Lead times on the three "special" colors vary but average five to six weeks.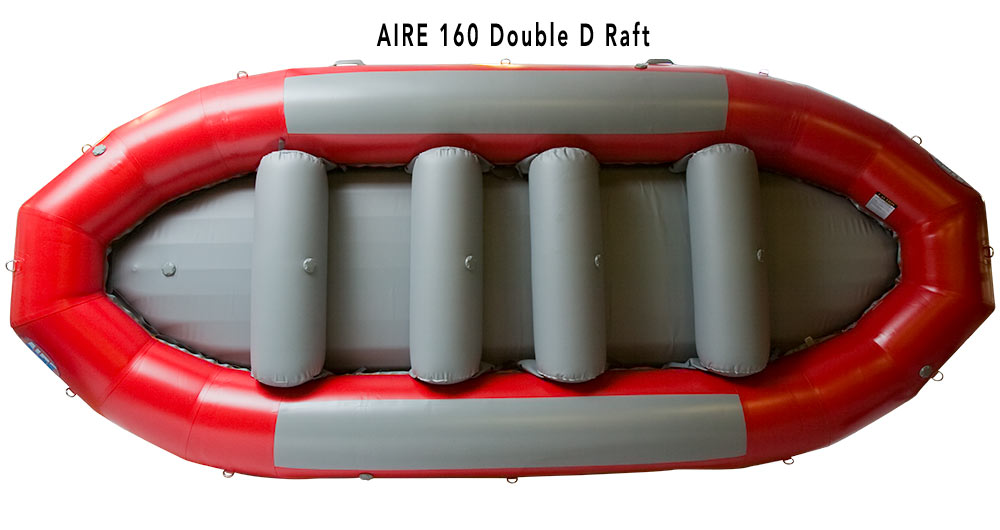 AIRE 160 Double D Raft Accommodates 8 to 10 Paddlers
The AIRE 160DD inflatable river raft accommodates eight to ten paddlers. It is mainly used by outfitters as a paddle raft rather than an oar rig, though it will serve well as an oar rig for private boaters too since it is actually three inches wider inside than AIRE's biggest 156 model. This raft has 21″ main tubes, 14″ of rocker, and frame chafers. The outside width is 7'3″ so a 66″ frame width works perfect. The weight with two thwarts is 175 pounds.
All AIRE's come with a very complete patch kit, repair video, lots of D- rings, lift handles, and a ten year warranty. Matching footcups are available for all AIRE boats (see Raft Accessories section).
AIRE 160 Double D Whitewater Raft Sealed Floor Option
Some boaters, most often those who don't actually own any AIRE rafts, worry over water that is retained on the river between an AIRE's floor bladder and the interior of the pvc floor pocket. They assume it will adversely effect the performance of an AIRE, especially a larger model like the 160DD. In truth, you are definitely carrying some H2O all the while you're on the river, maybe eight to ten gallons on a 16′ model. However, in our considerable experience most boaters won't even notice it. But if you really want the top performance from your AIRE or are concerned about silt and fine grit entering through the floor pocket's zipper, then perhaps it is worth looking into the Sealed Floor Pocket ("SFP") option. This item is shown on a separate page as an add-on, and runs extra. Unless you actually do spend a lot of time on class V rivers, we don't think it's a good investment, but that's your call.
If you do want a sealed floor pocket, we strongly urge you to call for availability & lead time, so we can see if it works for you. In general no dealers stock the SFP models.
Urethane Option for AIRE 160 Double D Whitewater Rafts
Optional Urethane fabric on the 160DD:
Note that all U.S.-made AIRE rafts and cats are available in polyurethane fabric as well as pvc. The upcharge on the 160DD model for urethane is extra. You cannot order a urethane raft online, you have to call. Lead times on urethane boats can vary greatly, and color options are generally limited to one or two choices so we want to make sure the wait times and colors are kosher with you. A third reason we need you to call us is that normally a down payment is required since urethane boats are special order. If AIRE happens to have what you want in urethane sitting on the shelf that's fine, but otherwise it has to be ordered, and the same is true of the sealed floor pockets.