AIRE Catarafts Wave Destroyer 15 big water 15′ cat tubes are available in blue, dark green, orange, red or yellow. Pricing includes an allowance toward shipping fees and/or other items you may need with your tubes. Our shopping cart will not factor in the shipping credit, but we will deduct the allowance from the total before capturing your funds.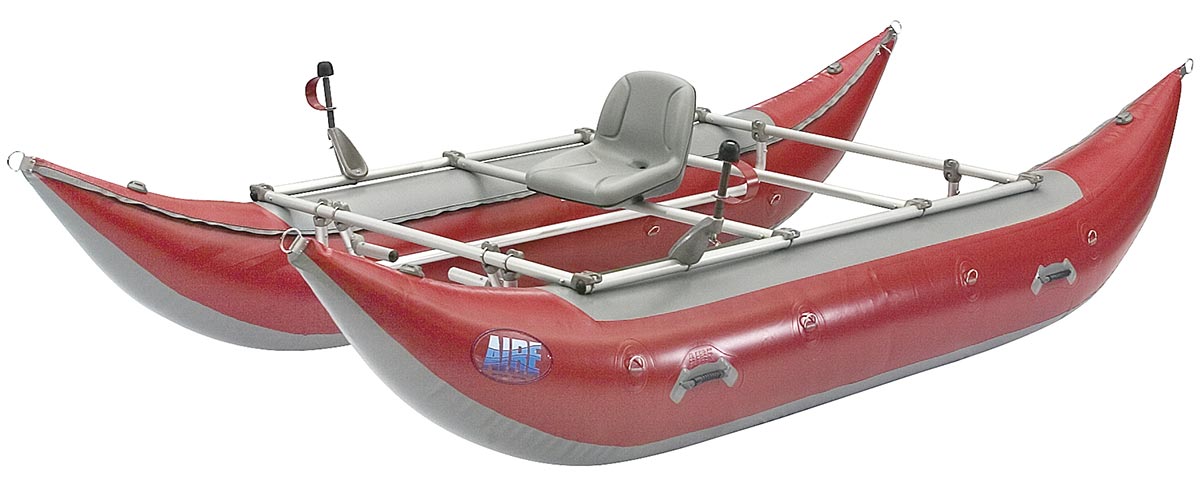 AIRE's Wave Destroyers come in four sizes, this AIRE Catarafts Wave Destroyer 15 being the longest. They are conceived for high-flow rivers with continuous rapids, like the North Fork Payette in Idaho near their factory. Many of you who run rivers that tend to be pool & drop should perhaps stick with the faster Jaguarundi or Ocelot models, especially if the "pools" go on for a long distance. Wave Destroyers may work great for Cataract Canyon when you are in the rapids, but on the long flat sections these will be slower than any other tubes in our Cataraft section. You simply cannot decrease the waterline, increase rocker, and not expect to have a slower boat. It doesn't matter if it's a canoe, rowboat, raft, inflatable kayak, or set of cat tubes. Longer narrower hulls with smooth transitions at the ends will always be faster than something with a shorter, wider, more angled profile. That's why a lake paddler should not purchase a whitewater canoe.
The AIRE Catarafts Wave Destroyer 15 payload capacity is about the same as the 14′ AIRE Ocelot model (900 pounds0, but these would rarely be used to carry heavy loads since it would defeat what they were built for. If your rivers are in the nature of continuous class IV or V, or if they are often at very high flows when you run them, the various sizes of Wave Destroyers are well worth looking into. The high rocker allows them to deal better with large vertical drops (where they won't pencil into the foam so deeply) and huge back-curling waves, and if you don't need a cat for anything but solo or tandem day trips, AIRE has added two new smaller sizes last year. The bow rise on the fifteen footer is 32″, and the weight per pair is 78 pounds. Tube diameter is 22″. They have replaceable lift handles and grey frame chafers like most other AIRE tubes. Also see the description for the 14′ Wave Destroyer. it's best to call or email us for color availability before moving on to the shopping cart.
AIRE Catarafts Wave Destroyer 15 has Urethane Material Option
The AIRE Catarafts Wave Destroyer 15 is also available in urethane material for an extra, though this is not something we or AIRE usually have on hand. Therefore, this option is not on the shopping cart because the lead times can vary greatly. Give us a phone call if you are interested and we will check the delivery times for you. Whether it is worth spending half again as much money to upgrade to urethane is debatable, but we will let you make the call. Polyurethane's abrasion resistance in the water is higher, and the base fabric is beefier, so you get an even stiffer tube. That said the standard pvc AIRE's are mighty stiff as it is.