The AIRE Catarafts Wave Destroyer 14 Inflatable Cataraft and the price includes a rebate for UPS or any accessories you may need. Our shopping cart will not factor in the rebate credit, but don't worry – we will deduct the allowance from your total before capturing the funds. Also note that AIRE introduced two smaller sizes of Wave Destroyers last year – a 13′ and a 12′ model, listed separately in this section of our site.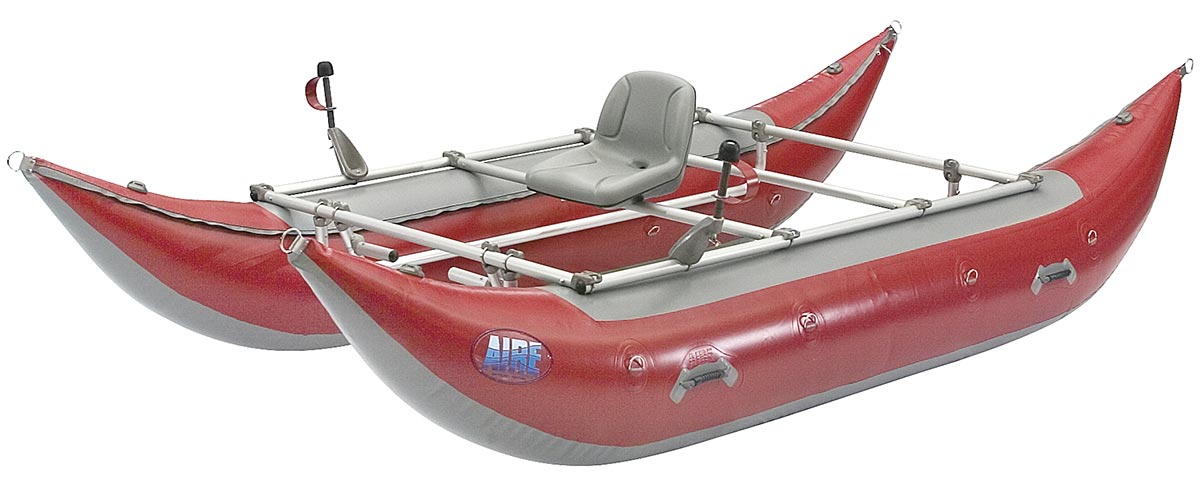 These Cats are available in five colors for 2012: red, yellow, blue, dark green, and orange. Purple, white, and gray are special order and take a minimum of five weeks extra (plus shipping time), and sometimes up to two months. Please specify your first and second color choice; remember, most brands only come in one or two colors.
Tube Concept for AIRE Catarafts Wave Destroyer 14
AIRE's concept was to create a tube for high-flow rivers that are fairly continuous, like idaho's North Payette. This means many of you who run rivers that tend to be pool & drop probably should be looking at something with less rocker, rather than the Wave Destroyers. The overwhelming majority of people phoning about these are not using their boats on raging high flow runs, and if they proceed with a purchase may be disappointed when it comes time to keep up with fellow boaters on flat sections. If you decrease a boat's waterline, and increase it's rocker, you will have a slower boat. It doesn't matter if it's a canoe, raft, inflatable kayak, or set of cat tubes. Longer narrower hulls with smooth transitions at the ends will always be faster than something with a shorter, wider, more angled profile, no matter what type of boat we are talking about. We are not trying to talk you out of the Wave Destroyers, just be sure you fall into AIRE's target group for these tubes.
The AIRE Catarafts Wave Destroyer 14 is 22″ in diameter and is essentially a more rockered AIRE Ocelot. The payload capacity is lower by 10% to 20% than flatter tubes of equal length – about 800 pounds in the case of the WD-14. Still, these would rarely be used to carry heavy loads since that defeats their concept, but there are certainly multi-day class V rivers out there. If you like continuous class IV or V, or if your fave runs often flow high when you are on them, Wave Destroyers are a great way to go.
high rocker allows AIRE Catarafts Wave Destroyer 14 to deal better with large vertical drops and huge back-curling waves, Bow rise is 33″ measured from the floor, and the weight per pair is a low 69 pounds. They have replaceable lift handles and gray frame chafers. Call or email us with your color preference before moving on to the shopping cart. AIRE will rarely have all five colors on the shelf.
Urethane Material Option for AIRE Catarafts Wave Destroyer 14
The AIRE Catarafts Wave Destroyer 14 is also available in an extra-tough urethane material for more, though this is not something we or AIRE usually have on hand. Therefore, this option is not on the shopping cart because the lead times can vary greatly. Give us a phone call if you are interested and we will check the delivery times for you. Whether it is worth spending half again as much money to upgrade to urethane is debateable, but we will let you make the call. The abrasion resistance in the water is far higher, and the base fabric is beefier, so you get an even stiffer tube. That said the standard pvc AIRE's are mighty stiff as it is.