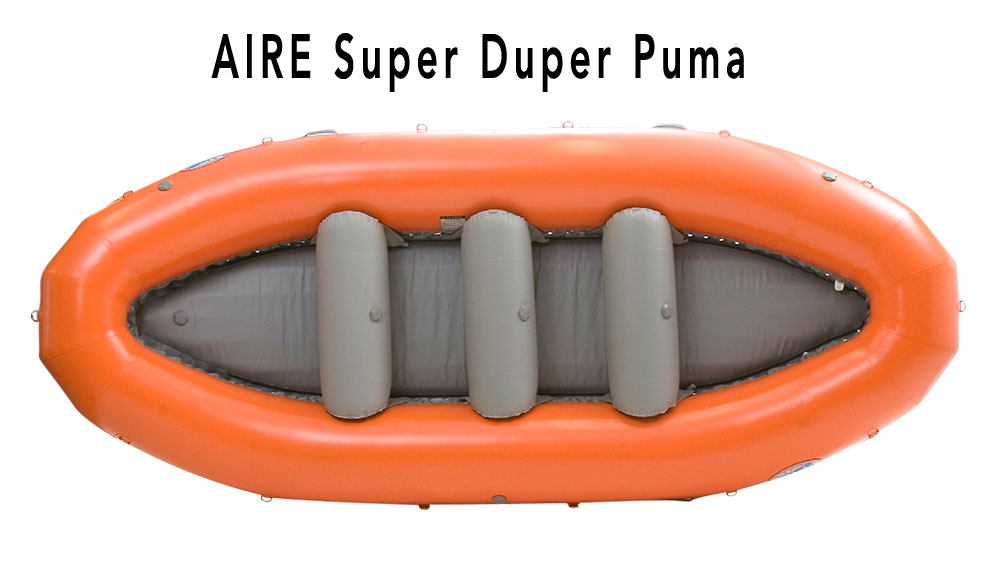 Super Duper Puma inflatable raft (self bailing) is $ with two thwarts (note that our photo shows three). For an extra thwart, go to the page for that option and simply order an extra one. To order a thwart-less Super Duper, please phone us. The price will be $ less than what's shown, but the thwartless version is not on our shopping cart system, so get ahold of us at 925-820-BOAT to order. If you do plan to order one no thwarts, please understand that it will affect the boat's inside width slightly. Often, having at least one thwart blown up firm spreads the raft apart the final inch or two, so if you are splitting hairs on the frame width keep this in mind. Our price includes a $ allowance that you may use toward UPS and/or accessories. If your shipping is less than $, which it almost always will be in the lower 48, if you need no other accessories we'll work something out with you on the price.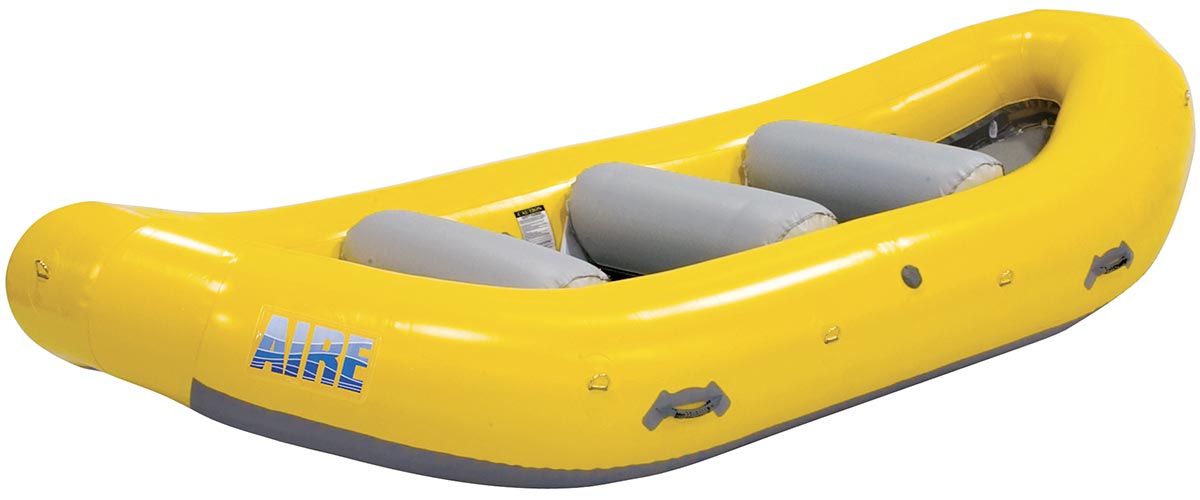 AIRE Super Duper Puma Whitewater Raft – the Skinniest 14′
The AIRE Super Duper Puma Whitewater Raft inflatable raft came out seven years back, and is another narrow series raft like the regular Super Puma, but stretched to 14′. The width is only 5'11", making this the skinniest production fourteen footer on the market. We haven't played with one yet but the AIREheads have rowed and paddled it on various Idaho runs, and they claim it's stable even with a frame. Claims aside no one should expect a boat this narrow to be quite as stable in high flow rivers as a similar raft that's 8″ or 10″ wider. With smallish 19″ tube and a very short footprint, you should not plan on loading a Super Duper Puma raft with much more than 1100 pounds either.
As a paddle raft for six people, or maybe seven if they are of moderate weight, the AIRE Super Duper Puma Whitewater Raft should be a hoot. If you want an oar raft for high volume rivers or for class VI and V runs, or one to just load heavy for long trips, you may be better served with the regular R and D series AIRE rafts in either thirteen or fourteen foot lengths. When a raft is only 33″ wide inside like the Super Duper, you may be forced to load camping gear further fore and aft, creating a "flywheel" effect when pivoting. A lot of weight loaded far to the stern also allows big holes to pull a raft back in more easily. Additionally, a 33″ width limits you as to the size of cooler or drybox you can carry unless you want to rig one lengthwise, which is impossible with most frames and impractical in all cases. There is an extra-narrow drybox available (we don't carry it, but they are produced by Recretec) for the Puma series rafts, but at a tiny 26″ width, it doesn't hold much. All this aside though the Super Duper Puma still allows fly fishermen to do over-nighters that might be difficult with the smaller Super Puma.
Give us feedback on AIRE Super Duper Puma Whitewater Raft
If you are a Super Duper owner who has also owned other rafts, we would be interested in hearing your impression of this model. This model really doesn't seem to be catching on out in California where we are, so there's been a dearth of feedback. On those occasions when we Boat People find ourselves rowing an oar rig, it's going to be on longer trips and we're going to go for a wider raft – especially since we don't even keep frames around that are narrow enough to fit the Super Duper Puma most of the time. The one customer we have who does own a SuperDuper lives in Northwestern CA and he uses his on small-flow coastal streams, often for fly fishing. He's been very happy with the boat, but apparently it sees little whitewater above class III.
The five standard color options include blue, red, yellow, "Florida orange", and a dark green. If you can wait a month or two and don't mind putting down a deposit, we can also special order white, gray, and dark purple Super Duper's. All AIRE thwarts are removable and repositionable. The Super Duper weighs 115 pounds, about the same as one of the very wide imported Tributary 13′ bailers. For information on Sealed Floor Pockets for Super Duper Pumas, see larger rafts.
Polyurethane Option for AIRE Super Duper Puma Whitewater Raft
Note that you can order your AIRE Super Duper Puma Whitewater Raft in polyurethane fabric as well as pvc for an extra, but you cannot order a urethane edition on the shopping cart, you have to call. Why? Lead times on urethane boats can vary wildly, and color options are generally limited to one or two choices so we want to make sure those are kosher with you. A third reason we make you call us is that normally a deposit is required since urethane boats are special order. If AIRE happens to have a urethane Super Duper sitting on the shelf for you, that's fine and we wouldn't need a deposit if that's the case.