AIRE Puma inflatable whitewater raft includes a $ allowance toward UPS and accessories. Extra thwarts are listed on another page, but you really cannot get any more in this little boat without squeezing your legs. If you want one with no thwarts (the price would be $ less), please phone us as this option is not on our shopping cart. If you do plan on having no thwarts, please understand that it will affect the boat's inside width by about two inches. Having at least one thwart blown up firm spreads the raft apart fully, so if you are splitting hairs on the frame width keep this in mind.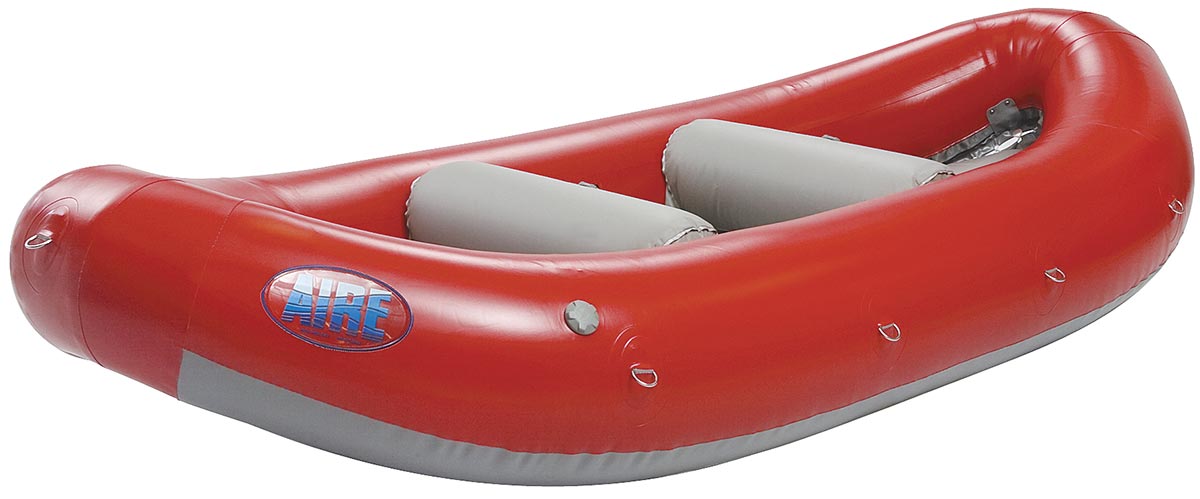 This raft became one of the original "R-2's", or two person rafts, when it was introduced back in the early 90's, along with Airtight Inflatable's Shredder. That said, the 11'6″ Puma works fine with up to four paddlers, as long as they aren't too heavy. The narrow width of 5'6″ creates a fairly small footprint and therefore somewhat limited displacement. More about this below.
AIRE Puma Whitewater Raft – Multi-Use
The AIRE Puma Whitewater Raft and its big brother the Super Puma (on a separate page), are fast, sporty boats ideal for paddle crews, or as inflatable drift boats for fly fishing. As paddle boats they are most at home on tight steep low volume rivers. The tubes taper on both models at the ends of the hull, making for a small surface area to punch waves with ease. There are just two main air chambers on the Puma side tubes. It's longer brother has a third one. Along with the 130D model, the Puma is one of our very favorite AIRE rafts for paddling whitewater, and it has been ever since it came out.
Wonderful as the Puma may be, if you want top performance you shouldn't overload it or pay too much attention to the 870 pound load capacity listed in AIRE's brochure (though their catalog used to say ti would hold 950 pounds!). For the Puma to stay "high performance", keep the weight to around 700 lbs. With the rather narrow 5'6″ width and the considerable amount of rocker the Puma has, the footprint on the water is quite small. And the less square footage of displacement there is, the less you can put in a raft – or any boat for that matter. If you stay around the limits we suggest, the Puma is a little rocket ship. Colors include red, blue, yellow, dark green, and John Boehner orange. Purple, white, and all-gray can be had too if you don't kind waiting a month or two.
For Fishing – Stiffen AIRE Puma Whitewater Raft Floor
If you want a firmer, pancake flat floor to stand on while fishing, consider cutting out half-circle shaped plywood pieces for the bow & stern of your boat. Sand them, route the edges, and brush the wood with about 12 coats (we're kidding, but you can never have too much) of varnish. On the last coat on the top surface, you can sprinkle clean sand or coarse grade rock polisher grit on the varnish as it dries to improve traction. Hardware stores also sell an adhesive-backed sandpaper type material by the foot that you can stick down to the wood. For information on Sealed Floor Pockets for Pumas & other AIRE rafts, go to the page for that option, found in this section of our website.
With two thwarts a Puma weighs 89 pounds, or 80 without any thwarts. The tube diameter is 18″, tapering at the ends to about 13-1/2″. One detail you should also be aware of, especially if you tend toward "retentiveness", is that Pumas are a relatively slow mover compared to the more popular 13′ SuperPuma model. This means that you order today might have been made one, two, or even three years back. Being in a box this long will accentuate the marbling, or crease marks, found on all pvc boats. Some of this will work it's way out after the boat is in the sun for a while, but some of it won't. The good news is that it doesn't hurt a bladderized boat in the least, nor does it compromise the strength of the material or base fabric in any way. But it may look a bit unsightly, so if this is going to be a sticking point we can try to check serial numbers to see which colors may have been made most recently.