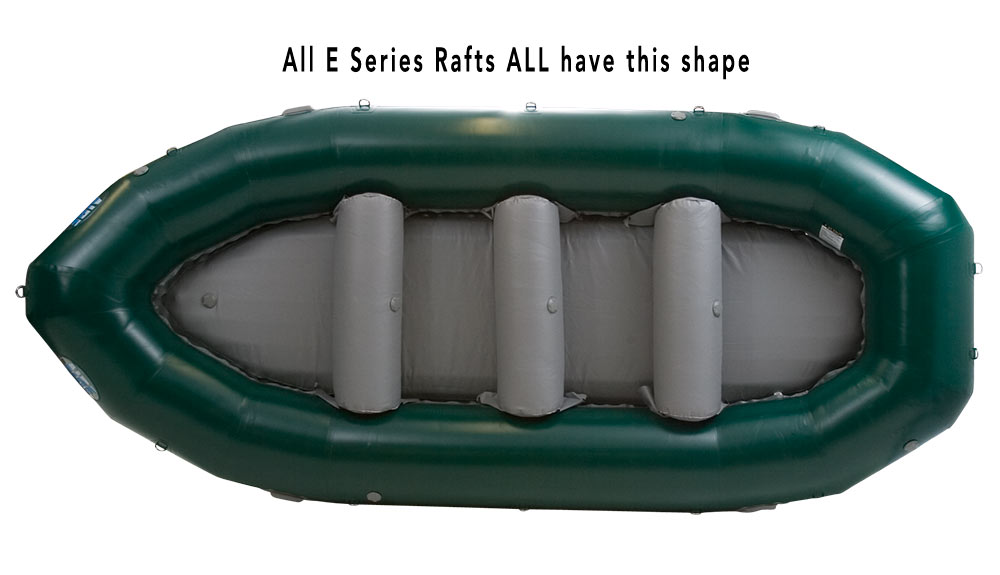 The AIRE 130D, 130R, and 130E self bailing inflatable rafts are with two thwarts. Note that the photo shows three thwarts and that the purple color shown is only available sporadically. If you plan to order a raft with no thwarts, please understand that it may affect the boat's inside width. Often, having at least one thwart blown up firm spreads the raft apart the final inch or two, so if you are splitting hairs on the frame width keep this in mind. You cannot use a two-bay frame with these thirteen footers anyway, so keeping at least a front thwart in place is not a bad idea.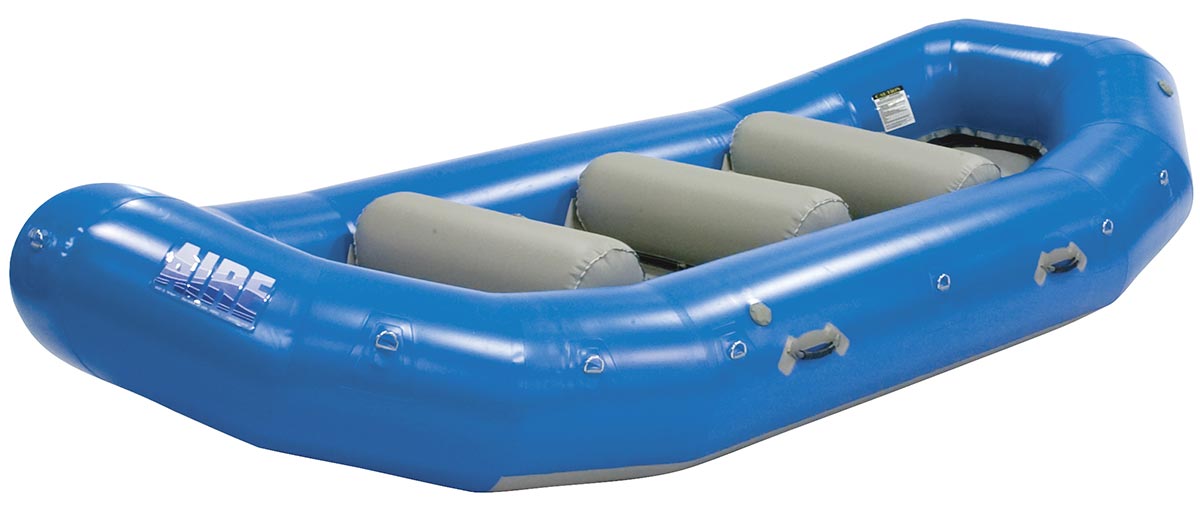 AIRE 130E Whitewater Raft 130D, 130R Hulls
AIRE's "normal" rafts come in three sizes – 13′, 14'3″, and 15'6″, with three hull designs to choose from in each. In the case of each size, all three models are the same price. The narrower, pointy-bowed 130E hull is for paddle crews on tight technical rivers, or fly fishermen who need something larger than a Super Puma but still want the feel of a driftboat. The 130R is the original model with rounded ends, the bow being kicked about 4″ higher than the stern, and it has somewhat higher floatation than the "E". The R series was supposed to be replaced a decade ago by the sleeker diminishing tube D model, but due to outfitter demand all three hull shapes have been kept in the lineup.
R and D models are almost interchangeable, though the D has more interior cargo space on the ends and the same amount of rocker at the bow and stern. The "D", shown in our photo, is completely symmetrical in fact, you just have to choose what end you want the floor valve to be at. The diminished tubes at the front and rear of the D series also have the dual benefits of keeping a paddle captain closer to the water along with better wave punching. The 130D is our favorite AIRE raft of all since it seems to work equally well as a paddle raft or an oar rig. It's responsiveness makes it one of the best rafts in AIRE's line-up for moderate flow class V runs. The narrow 130E model is quite nice, but a bit less versatile. The E is great as a fishing drift boat, and good for tight eastern whitewater, but slower than the 130D with less space in both interior width and length.
All three AIRE 130 model river rafts have center sections that gently curve just before the end seams begin, and all have 19″ tubes. They are perfect for six paddlers, and the 130D and 130R make great multi-day gear carriers for couples that do three to seven-day trips with a rowing frame. All D and R series rafts come with gray frame chafer strips, though the photo of the "D" here doesn't show it.
AIRE 130E Whitewater Raft, 130D, 130R Specs
The 130 D is spec'd at 6'4″ wide, the 130 R is 6'6″, and the 130 E paddle model 6'2″ wide. The D is usually about an inch wider when we've measured, and the E an inch narrower than AIRE's figures. They weigh 120 pounds (the D), 122 (the R), and 115 pounds for the 130E. These weight figures are with two thwarts. If you order an AIRE 130 without thwarts it would be nine pounds less.
Let us know which model you want, and the color, and please have a second choice. Standard colors include blue, red, dark green, dark orange, and yellow. White/grey, dark purple, and two tone grey are available by special order with a deposit, and typically run five to six weeks extra lead time – sometimes longer though. If you are really adamant about getting only one particular color, please phone us instead of trying to use the cart so we can check if that color is in stock.
Urethane Option for AIRE 130E Whitewater Raft, 130D, 130R
Urethane AIRE Rafts & Cat Tubes: Note that all U.S.-made AIRE rafts and cats are available in polyurethane fabric as well as pvc. Any of the three 130 models runs extra in urethane fabric. You cannot order a urethane raft or cat tube set on the shopping cart, you have to call. We force you to do this because lead times on urethane boats can vary wildly, and color options are generally limited to one or two choices so we want to make sure those are kosher with you. A third reason we make you call us is that normally a deposit is required since urethane boats are special order.