AIRE Tributary Tomcat Solo Inflatable Kayak. Please note that any accessories purchased with your boat are 10% off, and also note that our shopping cart as yet does NOT reflect these discounts – it will show a higher total so we will adjust the bottom line before ringing the transaction through.

This imported whitewater inflatable kayak weighs in at 39 pounds with it's thick 32 ounce underside material, a bit heavy for a solo boat. The standard seat is the same one used for the Lynx, Super Lynx, Strike, and Sea Tiger. The Tomcat's width is almost 38″ (not 36″ as the catalog says), so don't plan on using a short (like 220 or 225cm) paddle with this 'yak because you won't be able to move it effectively.
AIRE Tributary Tomcat Solo Inflatable Kayaks pretty well negate the need to look at the wetter, slower bailing models from Coleman, Sea Eagle, or osome of the no-name brands you find scattered on eBay and other dark corners on the internet.
Tributary Tomcat Setup

AIRE Tributary Tomcat Solo Inflatable Kayak Cargo Space
These are an excellent choice for folks who want to do self supported multi-day whitewater inflatable kayak trips because they have a ton of tie-down loops and lots of room behind the seat (and in front, depending on seat position) for gear, and plenty of weight capacity. AIRE Tributary Tomcat Solo Inflatable Kayak specs actually rate the carrying capacity of this boat at 25 pounds less than the Lynx I, which is absurd. The 350 pound rating on the Lynx I, due to all it's post-2003 design changes, is really optimistic. 300 to 320 is about right. The Tomcat I on the other hand will carry close to 400 pounds without swamping.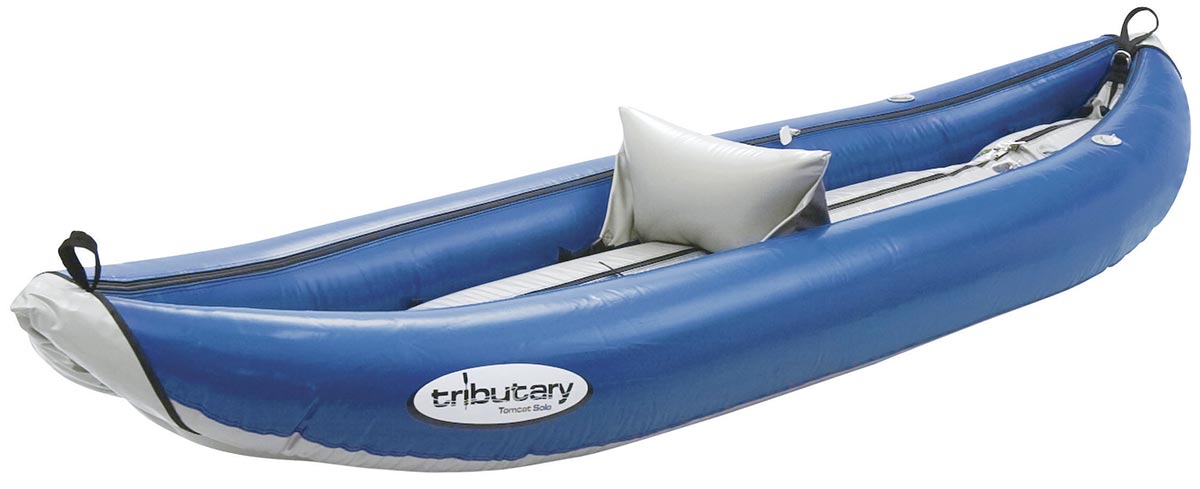 Tomcat Solos' don't inflate as rock-hard as the American models because the 500 denier Chinese fabric on the upper tube is more stretchy. The bottom seams on the Tomcat are stitched rather than welded. If you happen to fall into that 1/10 of 1% of paddlers who run rivers with unusually abrasive or sharp geology, you might consider covering this stitching with either some glued on seam tape or a very fine layer of Aquaseal. That, or pass entirely on the Tomcat. We also have to say that as of this update to our site, the oldest AIRE Tributary Tomcat Solo Inflatable Kayaks are hitting nine years of age now. And we are starting to get reports of the underside stitching coming loose. In fact we had a customer bring a torn one for us to look at and forward to AIRE for repairs last year. He had used it very heavily for four seasons and was not unhappy, but the damage to the thread on the bottom was fairly extensive. Even so, the vast majority of you should never worry about those seams.
Wilderness Runs – AIRE Tributary Tomcat Solo Inflatable Kayak
We've also begun to hear from AIRE Tributary Tomcat Solo Inflatable Kayak buyers that have had some trouble with pinholes in their tube bladders recently, and quite a few more in 2012 who had the welded lengthwise seams split open. That is an expected shortcoming of the vinyl bladders over the proven and very durable urethane ones used in all the other AIRE models. If you take your Tomcat into the wilderness, it may make sense to go ahead and buy an extra tube bladder (and don't forget to pack the valve wrench that's included in your patch kit because you will need it to change the bladder). We do not list individual AIRE & Tributary bladders on our site, nor do any other dealers since there are hundreds of them, but we can happily order one with a few days notice.
All the other info on the AIRE Tributary Tomcat Solo Inflatable Kayak, including details on the differences between these and the U.S-made kayaks, is available in our Tandem (whitewater) inflatable kayak section. Tomcat Solo, a lot of fun & whitewater capability for such a low price!
East Fork Carson River California – Customers Bob and wife running Tomcats