Pricing on the AIRE Lynx I inflatable kayak includes an allowance toward UPS and/or accessories. See the information on the Intro page. Please note that any accessories purchased with your boat are 10% off, and also note that our shopping cart as yet does NOT reflect these discounts – it will show a higher total so we will adjust the bottom line before ringing the transaction through. If for any reason we manage to forget, we will enclose a refund check for the difference inside the box with your receipt.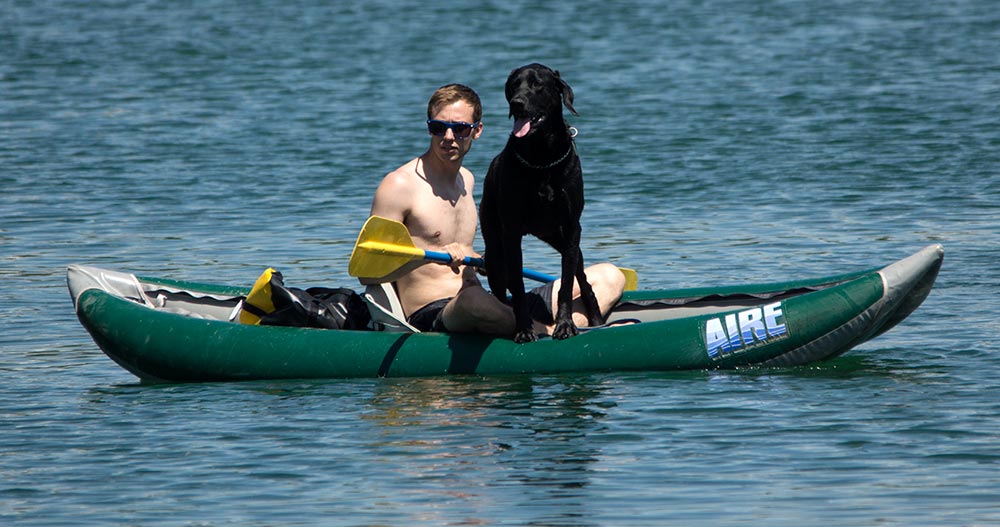 AIRE Lynx I Inflatable Kayak Best Seller
The AIRE Lynx I inflatable kayak and it's larger tandem equivalent are still some of our best selling inflatable kayaks. This boat has great weight capacity, a high rockered bow, and a sleeker more tapered nose than the older pre-2003 Lynxs. Lynx I's are one of the very best class V kayaks due to this front-end design; on huge verticle drops they won't plow into the hole as deeply as many other models, including the Strike, Force, and Tomcat. They also don't take in as much water in wave trains since they tend to ride up over them. There are a number of folks out there who actually do not like the newer incarnations of the Lynx I and Lynx II as much as some of the older models, but there are as many opinions on this as there are inflatable kayakers. It's best to chat about your choice with a paddling buddy that has some experience, or solicit the advice of online paddling groups like MountainBuzz, boatertalk.com, etc. If most of your boating consists of moderate class III and IV runs, the Strike model is well worth looking into and is actually superior to the Lynx in some ways.

AIRE Lynx I Inflatable – 20 Webbing Loops
The 20 webbing loops sewn in along the inside between the tubes and floor are perfect for gear tie-down and installing thighstraps, or for repositioning the super comfy chair-style seat anywhere you want it. The Lynx weighs 32 pounds and utilizes highly reliable Leafield valves. This model is made to spin quickly between rocks so don't look for great flatwater tracking. A Lynx will surf pretty well compared to most of the boats above, but with the 37″ beam, it's also reasonably stable. Because the Lynx I is very shallow (about 4-1/2″ from the top of the side tubes to the top of the floor), you should always use thighstraps with this model in anything more than class II.
All AIRE kayaks, rafts, and cat tubes utilize bladder systems for each air chamber. These are highy repairable in the field compared to other boat construction methods, and the stiffness of the outer shells is matched by only the Sotar kayaks. Some folks may want to order the optional (inflatable) thwart backrest, found in or Kayak Accessory section, for the Lynx if they plan to do rivers harder than class III.
Standard colors are blue, red, orange, dark green, and yellow. Purple is now special order and most of the time it takes over a month to get one in that color. If you have to have purple, email us, or phone at 925-820-BOAT and we can be more exact on the lead time.
AIRE Lynx I 2014 Design Changes

⚠️ Warning: These products are made of PVC and can expose you to chemicals including Di(2-ethylhexyl)phthalate (DEHP) which are known to the State of California to cause cancer and birth defects or other reproductive harm. For more information go to www.P65Warnings.ca.gov